Modern Pocket Watch
Modern Pocket Watch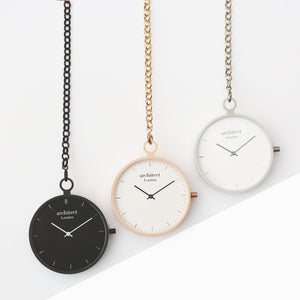 Pocket Watches UK
Swiss movement, sapphire glass, stainless steel housing. What more can you ask for?
Perhaps the best thing about our pocket watches, is the minimalist design.
We thought that most pocket watches out there are dated, old and just needed a complete modern new look. Enter the first 'Modern Pocket Watch'.
Exited to launch these unique pocket watches is an understatement. Just the fact that the world has not seen something like this is a statement in it's own right. 
Of course our modern pocket watch can be personalised on the back with an engraved message of your choice.