Pocket Watches | Personalised by Architect London
Pocket Watches | Personalised by Architect London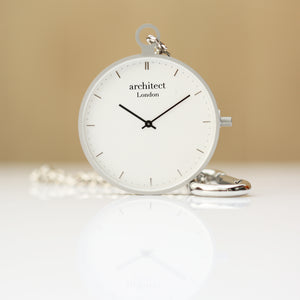 Engraved Pocket Watches
Whats better than a pocket watch? One with a modern twist!
Here at Architect Watches London, we thought 99% of the pocket watches out there are either dated, look a bit naff or are priced far too high for what they are.
We set sail to have a pocket watch designed from the bottom up. One that is not only striking in looks but one that you would be proud to own, proud to use and proud to pass on one day as a family heirloom.
Quality was paramount when designing this so we incorporated Swiss movement, Sapphire glass and a stainless steel housing. A pocket watch to love and cherish.
With complementary engraving, we take care from start to finish.
Check out our engraved pocket watches today. Click here to see them.